Cus­tom hea­ders let you modi­fy the appearance of your mas­thead, menus, bread­crumbs, hea­der con­tent and more. A hea­der is atta­ched to a lay­out from the Lay­out Mana­ger and can also be easi­ly assi­gned to indi­vi­du­al pages and posts. Using cus­tom hea­ders you can quick­ly crea­te uni­que looks for your site and style indi­vi­du­al are­as as needed.
[vc_separator]
Three Mas­thead Locations
[vc_single_image image="3955" img_link_target="_self" img_size="full"]
Set your mas­thead with the main menu to dis­play on the top, left or right of the the­me design. Spe­ci­fy indi­vi­du­al styl­es for cus­tom logos, back­ground colors, back­ground images, wid­gets, menu colors, bread­crumbs and more.
Mas­thead examples:
[vc_separator]
Two Con­tent Sources

Sel­ect any slide­show, sta­tic block or side­bar as the source con­tent for each hea­der. Having two dif­fe­rent con­tent sources for each hea­der you can mix and match to crea­te the per­fect result for each hea­der. Save time by reu­sing con­tent, crea­ting an easy to main­tain and update website.
Available con­tent sources:
Slide­shows
Side­bars
Sta­tic Block (cus­tom post type)
[vc_separator]
Cus­tom Logos

Each hea­der can have a cus­tom logo to over­ri­de the default the­me opti­ons. This allows indi­vi­du­al bran­ding on sin­gle pages, posts or enti­re are­as of your site. Use this fea­ture for grea­ter con­trol of your pro­ducts, bran­ding and com­pa­ny iden­ti­ty by ensu­ring brand recognition.
[headline_box text="Set cus­tom logos, add wid­gets and bread­crumbs." align="Center"]
Mas­thead Widgets
Add wid­gets to the top and bot­tom side­bar are­as of the mas­thead, one loca­ted abo­ve the logo and the other at the very bot­tom of the mas­thead. Set dif­fe­rent wid­get for ver­ti­cal mas­theads (left and right) and hori­zon­tal (top) mas­thead styles.
Bread­crumbs
Enable the default bread­crumbs desi­gned to appear in bet­ween the first and second hea­der con­tent source. This can be enab­led on indi­vi­du­al hea­ders or glo­bal­ly for the enti­re site. For added con­trol over bread­crumbs you can insert them into your hea­der with a shortcode.
[vc_separator]
Sam­ple Headers
[vc_gallery type="image_grid" interval="3" images="6066,6067,6068,6061,6062,6063,6064,6065" onclick="custom_link" custom_links_target="_self" custom_links="/blog/image-left/,/sample-pages/faqs/,/features/masthead-right/,/features/lightbox/,/our-work/grid-filtered/,/features/contact-forms/,/features/masthead-left/,/features/parallax/" img_size="220x147"][headline_box text="Show the mas­thead on the top, left or right of your design." align="Center"]
Set Hea­ders for Pages and Posts
Any indi­vi­du­al page or post can have a cus­tom hea­der. You can spe­ci­fy defaults for pages, posts, blogs, port­fo­li­os and home pages, howe­ver on any sin­gle page or post you can over­ri­de the lay­out, hea­der and foo­ter. Spe­ci­fy­ing a cus­tom hea­der lets you easi­ly app­ly cus­tom looks to dif­fe­rent are­as of your website.
[vc_separator]
Easi­ly Mana­ge All of Your Headers
You can add, edit and dele­te hea­ders from a sin­gle loca­ti­on in the Lay­out Mana­ger to quick­ly make glo­bal updates to the enti­re web­site. The­re is never a need to go from page to page making updates to each. With the uni­que struc­tu­re of the the­me and the Lay­out Mana­ger you can quick­ly make glo­bal updates with ease.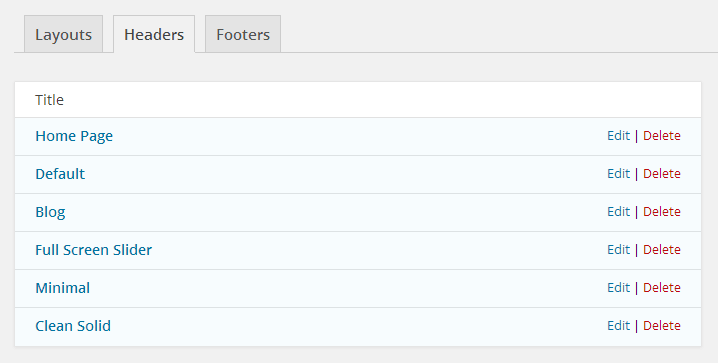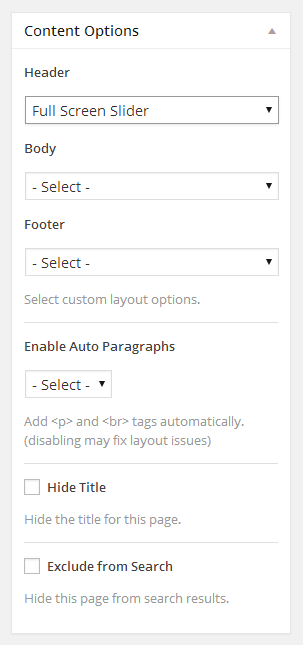 [vc_separator]
Hea­der Options
[vc_single_image image="3971" img_link_target="_self" img_size="full"][headline_box text="Include slide­shows, sta­tic blocks and side­bars. Set logos, bread­crumbs, cus­tom back­grounds, colors and more." align="Center"]